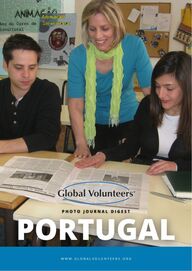 Return to flip book view
Portugal Photo Journal Digest
Page 1
W W W . G L O B A L V O L U N T E E R S . O R G
Page 2
Global Volunteers' service programs adhere to our over-arching Philosophy ofService in every community. Specifically, local people are always in charge ofwork projects, and volunteers contribute to community-driven initiativesalongside local people. At all times, we observe our policy stating "Safety TrumpsEverything." Orientation sessions are conducted on the first day in-country, andmorning and evening meetings give volunteers time to organize and reviewactivities. The team journal, shared at morning meetings, is a mainstay of every GlobalVolunteers program. A daily collaborative report by one or two team members,it reflects on the day's work and experiences. In many partner communities,volunteers contribute to several projects in different locations during the day.Through the team journal, volunteers hear about the projects and experiencesof their teammates. While such journaling requires effort, most volunteers report they love thevariety of recollections and stories. The journal becomes an enjoyable way tocommunicate shared and individual memories, and becomes a unique keepsakefor each volunteer team. Volunteers tell us that many years later, the teamjournal allows them to reminisce and cherish their time spent with local peopleand teammates. This journal digest, complete with photos, is a collection of journal excerpts fromvolunteers serving in Portugal.2
Page 3
S u c c e s s i s n o t f i n a l ; f a i l u r e i s n o tf a t a l : i t i s t h e c o u r a g e t o c o n t i n u et h a t c o u n t s .~ Winston Churchill
Page 4
As we traveled south from Lisboa, we first witnessed the splendor of the Vascoda Gama Bridge (Europe's largest suspension bridge) and the Tagus River. Alongour 2 ½ hour journey, we discovered medieval white-washed villages, rollinghills, interspersed with rows of cork and olive trees, vineyards, and nestingstorks. We arrived at the Residencial Bejense, our home away from home for thenext two weeks, a wonderful combination of traditional Portuguese charm withupdated amenities.JOAN4S U N D A YTo grow personally To give backTo experience the culture To have funTo teach and learnLuggage was transferred to our rooms and the team met in the meeting roomto begin orientation. Each volunteer gave a summary of their volunteerexperience, family, profession, and the reason they volunteered with GlobalVolunteers. We also went over Global Volunteers' Philosophy of Service, policiesand guidelines, and health and safety topics. After a lunch of soup andsandwiches, we continued our meeting with a discussion of personal goals andour expectations while in Beja. We settled on five team goals: Joe then followed with helpful hints on the hotel, staying hydrated, staying safe,"don't pet the animals", and watching out for cars coming from the alleyways.Donn and Noreen gave summaries of their past experiences in Beja as they areboth returning volunteers. We concluded by talking about how we can becomethe most effective team possible – the intangibles important for us to become acohesive unit.
Page 5
Joe then followed with helpful hints on the hotel, staying hydrated, staying safe,"don't pet the animals", and watching out for cars coming from the alleyways.Donn and Noreen gave summaries of their past experiences in Beja as they areboth returning volunteers. We concluded by talking about how we can becomethe most effective team possible – the intangibles important for us to become acohesive unit. SUNDAY5Our day ended with dinner at the Tem Avonda restaurant, a local favorite. Wedined on a feast of local foods accompanied by local wines. My hope is that eachof you learn to love Beja as I do, that you experience what I term the "WOWFACTOR" – an experience beyond your expectations and one that you willtreasure for a lifetime.
Page 6
Sherri and Shawn were assigned to a school in Cuba, and I'm not talking aboutCuba the country. Our commute was a little over 15 minutes and we rode byolive tree farms and farmland. Cuba and this region are in a serious droughtcondition and it was easy to see that as we traveled down the country roads.When we arrived at the school, we realized it was a fairly large school, and foundthat there were over 500 students. They have a preschool here, as well as levelsof K through grade nine. The students were curious about these two new faceswalking down their halls. Some shyly said "hello" in English, or many giggled if wewere to say, "Good morning, how are you?' The rule for us was to remain flexible as we navigated through our teaching,shifting our teaching moments as needed. Each audience of students wasdifferent and often times questions would change the direction of theconversation and the knowledge we shared. A good example of this was duringour first classroom visit – we found that it was to last an hour and 45 minutes. 6TIMM O N D A YToday began our first day of teaching and as we wandered down to breakfast,many of us had thoughts like what will I do; how can I be effective? What will thestudents be like; will the teacher support my efforts, and more importantly, will Ibe successful? Even with those thoughts came feelings of excitement andanticipation for the day and the adventure we would have. After all, this is whatmade the endless hours of travel and delayed flights worth it! As we left thehotel for our first day of school, the air had a crisp fall feel to it and a promise ofanother beautiful sunny day. Each of us were teamed up together with a fellowvolunteer; some of us walked to schools while some of us had teachers fromother schools coming to pick us up and driving us to our school assignments.
Page 7
Lunch time was a highlight for us, many of the students came up to us to talkwith us in English. I can't tell you how many times someone asked, "What is yourname?" or "How old are you?" It was so fun to talk with the students and watchtheir shy faces break into smiles and giggles. At times, they ran away, butcuriosity won out in the end because they came back to talk with us again.By the end of the day, we were exhausted but happy to have had a successfulday. The classroom visits went well and because of the ability to shift gears onteaching, we were getting students to engage in conversations. When we arrivedback at our humble abode, Hotel Bejense, we were greeted by fellow educators!Don, Roger, Clare, and Bill. It was good to see smiling faces and hear about theirday as well. We are supportive of each other's efforts.MONDAY7We all met up at 8:00 to have our team meeting. It started out with a Portugueselesson with Ana. We worked hard at trying to learn a few common words andphrases in Portuguese to make our time here more enjoyable. Ana surprised uswith a cake that is a typical Portuguese dessert here called Bolo de Bolacha—itwas delicious.Our evening ended with another great meal at a local restaurant sampling thecuisine of Portugal. We filled our bodies with a good meal, our minds with storiesfrom other's experiences, and laughed with our new Global Volunteer friends. As we walked through the quiet cobblestone streets of Beja to our hotel, oursights were set on the new classrooms and students we would visit the next day.Our work is not done and we continue our journey. Today we made a differencefor the students with the knowledge shared and the extended hand offriendship. Not only that, we are creating memories of a lifetime through ourvolunteering efforts.
Page 8
8KARENT U E S D A YOnly our second day 'on the job' and I am settling into the 'big picture' routine(rising early, breakfast, school, lunch on the fly, school, meeting, late dinner);however, the real 'meat' – our classes and teachers, chance encounters with thelocals – are those gems discovered and rediscovered each day. First, I must givethanks that I am paired with a great teammate, Dale. His engineer's brain is agood fit with me and we seem to reinvent the 'Dale and Cindy Show' each timewe enter a classroom. Today we first went to Dom Manuel High School where we worked with Maria'stenth and eleventh-grade students, in one class discussing the job market andeconomic outlook and relevant topics, culminating with mock job interviews.Students demonstrated remarkable poise and maturity, and an amazingcommand of the English language. In Maria's second class, we discussed themedia and freedom of speech issues. Again, I am amazed at the breadth anddepth of the subject matter. Dale and I join Maria in jumping into somestudents' mouths to extract conversational teeth. It was a good morning. After lunch, Dale and I made our way to Mario Beirao Middle School (assisted byCatarina and Daniela, two students). The previous day Luis Machado, math andalternate education teacher, had chanced upon us and invited us to thisalternate ed class – 15 and 16-year-old at-risk students. As a teacher advocate,Luis wanted his students to benefit from a Global Volunteer visit. His studentswere enthused and participative in their own way, drifting into discussion whena topic sparked their interest, a cacophony of Portuguese, English, and Spanish.One highlight was a trip to the art room to show us their ceramic projects. Whilethese students have many challenges being successful in a traditionalclassroom, their ceramic projects exhibited craftsmanship, pride and, in manycases, budding artistic talent. As Isabel, the principal, explained, there are twosuch alternate ed classes, one focused on computers and this one, on ceramics.Luis was effusive in his gratitude for our visit, describing it as a "gift". Daleresponded, "The gift was ours".
Page 9
S m a r t p e o p l e l e a r n f r o me v e r y t h i n g a n d e v e r y o n e , a v e r a g ep e o p l e f r o m t h e i r e x p e r i e n c e s ,s t u p i d p e o p l e a l r e a d y h a v e a l l t h ea n s w e r s .~ Socrates
Page 10
Pat and Ed finished their last day of introducing themselves at the two schools.Both reported increased positive response from the students as the weekprogressed. Students were especially interested in having photos taken with theGlobal Volunteers. Each reported on their individual tutoring sessions. Josh hada total of 90 students at his school in Vidigueira and today worked withbehaviorally disordered kids who seemed to engage well with him. Pete andGinny reported their classes were "getting better" every day. In their schools,teachers often have to explain/translate English to the kids because they don'tunderstand as well. Ginny is tutoring a 27-year-old who didn't learn Englishwhile in school.We had a delicious dinner (pizza, pasta, gelato) at a local Italian restaurant. Achange from the past few nights. Joe also announced that the team will travel toa special restaurant, Toi Farois, in a nearby village tomorrow evening.10SUEW E D N E S D A YThis is the fourth day together and the team is really starting to gel. Teammembers began the day with breakfast at the hotel at various times dependingon their teaching schedule. It was the hottest day so far in Beja so the walks toand from school without AC tested our tolerance for the heat.Donn and Margaret's classes went well and they noted that Portuguesestudents learn from British textbooks; therefore, American spelling isconsidered wrong. Noreen and Ann continued to discuss healthcare and theuse/abuse of alcohol and drugs in Portugal and the U.S.A., with the breathalyzerbeing a topic of interest to the students. Karen and Ginny had a "fantastic" day,discovered water fountains at their school, and got better performance out ofthe girls and boys by separating them into groups.
Page 11
At 7:25 a.m. Roger and I strode off to the library to catch our ride to Serpa withSusana. Susana, our main contact at the Escola high school, was very engagingon the 35-minute ride to school. Our first class was "reading" with eleventhgraders in Matilda's class. Roger and I had a great time telling stories andengaging the students about their reading preferences. Most of the studentsdon't read the paper but do get their news online. Then, Roger went with Susanafor her next class and I went to the Escola junior high school to meet Filomenaand her ninth-grade class. We spent a lively 90 minutes of fun that flew by. Thestudents talked about their passions and why they felt as they did. Roger joinedFilomena and me for a traditional lunch at Casa Benfica restaurant where weenjoyed leek soup followed by a pot of chickpeas and pork stew."Good Morning, Beja!", said a loud voice in my ear at 6:00 a.m. – oh, that was myalarm! I rubbed the sleepers out of my eyes and hopped into the shower. Downto breakfast with the early bird Global Volunteer team to visit about the fun wemay have this day. 11DONALDT H U R S D A Y
Page 12
The afternoon began with Filomena's ninth grade class. She shared that thesestudents had more basic English skills than our earlier classes. This hour wasmore challenging than our earlier classes. The students were shy, giggling, andacting out in a nervous way. I looked over at Filomena and she was fully engagedin helping the students get the most out of their experience and we continued topush through the distractions. In the end, they got what they could from theirexposure to our talk and questions. Our next class with Filomena was eighth graders who had good English skills fortheir grade level. Roger and I had the most fun in this class as they were themost responsive and engaging, ending the class by singing a traditional Serpasong to us. A great day of sharing ideas and experiences with the teachers andstudents. What fun!THURSDAY12Susana collected us and we were off to home base. She was delighted to sharethe history of Alentejo and many points of interest around Évora on our trip backfrom Serpa. Next, I walked to the library to meet Fátima, a young pharmacist re-learning English, and Carlos, our tutoring liaison. Fátima was late so Carlos and Ivisited about America and Portugal. We had a lively lesson with Carlos providinga lot of lighthearted humor. After a very tasty meal of pasta, steak, pork, French fries, tomatoes, and breadedvegetables, we returned to the hotel. Joe posed the question, "What surprised usmost about Portugal?" My reply was the confidence and presence of the highschool students compared to American teens. After a glass of wine, it was boanoite.
Page 13
As for Jim and me, this morning we were treated to a breakfast prepared andserved by ninth graders who were learning how to cook and wait on tables. Thefare consisted of orange drink and bread dipped in egg, fried, and sprinkled withsugar and cinnamon –something akin to French toast. We learned that thePortuguese term for the bread referred to a new mother, since it provided thenourishment that would help her produce milk for her newborn.13KENF R I D A YWe've all observed, at this end of our first week, that we've had quite a variety ofstudents and classes. Mary Kay and Corrine sometimes tutor one-on-one; theyalso teach small classes. Today Corrine was particularly impressed with a talk byone of her slow learners who gave a well-researched presentation, replete withphotos that she herself had taken of Portuguese products, villages, popularactivities, and coats-of-arms.Patty and Sue work with adults and often engage in interesting conversationswith their students. For example, today Sue took particular notice of twopaintings in the library that had not previously caught her attention. Upon closeobservation, she came to realize that these were paintings of the twin towersgoing up in smoke on 9/11. She proceeded to mention the event and thepaintings in her class. Interestingly, her students related that their reaction on9/11 was not unlike our own: they were in shock and stayed glued to the TV fordays.
Page 14
Jim and I have had a fair amount of interaction with students, as well as withseveral English teachers. I continue to be impressed with the extent of theteachers' familiarity with American writers and by their dedication to thestudents. I am saddened, however, when they express near despair at the stateof affairs in Portugal today.On a lighter note, after our evening meal together, we women were presentedwith a lovely Gerber daisy by the restaurateur in observance of InternationalWomen's Day – such a nice touch to end our busy, eventful week.FRIDAY14A winery tour and a tour of Beja on SaturdayA tour of Évora on SundayTonight we dined at a restaurant that was having a presentation of "CanteAlentejano", which is a singing style native to Beja. It is traditional folk singing,sung acapella, with only male voices. Thanks to Carlos' ordering, the tapa-styledinner was delicious, the wine was flowing, and the singing was beautiful.We look forward to our weekend plans:
Page 15
D o n ' t l i m i t y o u r s e l f . M a n y p e o p l el i m i t t h e m s e l v e s t o w h a t t h e yt h i n k t h e y c a n d o . Y o u c a n g o a sf a r a s y o u r m i n d l e t s y o u . W h a ty o u b e l i e v e , r e m e m b e r , y o u c a na c h i e v e .~ Mary Kay Ash
Page 16
In the afternoon, our guide, Fernanda, took us for a walking tour of Beja, whichincluded the Archeological Museum, the castle, the chapel of Our Lady ofPleasure, and a small chapel attached to the old hospital. Both of the chapelsdate back to the 14th century.After another nice evening meal courtesy of Joe, we strolled over to thePousada convent (now a five-star hotel) where we had a round of drinks andlistened to a description of several Portuguese liqueurs from a well-informedbartender. It was very nice.Saturday morning began when we said good-bye to Karen and Jan and wishedthem well and a safe trip back to the States. After breakfast, courtesy of themunicipality, we were provided a van, a driver, and guide to Herhande duGrous winery (recently reviewed in The New York Times). While at the winery,we had close to a two-hour tour of the winery and a description of the wine-making process (grapes are all hand-picked by nearby villagers). After the tour,we headed to the tasting room and were given samples of very nice wine. Ofcourse, several of us bought bottles of the Moon Harvest wine. Since theenvironment was so pleasant, we stayed there for lunch and enjoyed a five-starmeal and service. 16CARMELINAS A T U R D A Y & S U N D A Y
Page 17
17On Sunday, ten of us left on a very comfortable bus for Évora at 10:30 a.m. Onthe way there, we drove by miles of farmland covered by olive and cork trees.Cork trees with red trunks had recently had nine years of growth peeled off. Wealso saw miles of vineyards, vegetables, and cattle.SATURDAY & SUNDAYOur guide gave us a walking tour of the main city, which included the RomanTemple, Roman built towers, several churches (including the Cathedral), and achapel decorated with the bones of 5,000 bodies from the 14th century. We sawthe magnificent Church of St. Francis, built starting in 1495. Their inquisitionstarted in 1538. At the end of the tour, we purchased some souvenirs andreturned to Beja by bus. Overall, a great weekend and truly a "Carpe Diem"experience. Évora is a town well worth visiting.Marcie decided to head for the Algarve and get her beach fix. She stayed in alovely small hotel three minutes from the ocean and returned to Beja with abeautiful rosy glow.
Page 18
Jim and Gloria make efforts to stimulate conversation with students byquestioning the kids about their knowledge of Portuguese history. They wereasked about other favorite foods which resulted in much fun and laughter asGloria describes her favorite food as a hamburger and French fries. Patty andSue's discussions are wide-ranging from Cuba and agriculture and movies tocurrent events.We agreed that we are learning the culture and having fun and while focusingon teaching and building relationships. All the teachers I have worked with havebeen helpful and willing to work with us. Most of the students have been eagerand appeared to be excited with school versus just being there.After another wonderful dinner began the stroll to the hotel by way of the Praçada República and as we neared the plaza, we heard, then saw, hundreds ofstudents from the Polytechnic University parading through town. Upper-classmen wore their traditional wool robes and shoulder wraps, which are coveredwith badges reflecting where each was born, what their major is, their universityseniority, and even their recreational interests. 18JOHNM O N D A YOur team did not let the lyrics of that well-known song "Rainy days andMondays" get us down. Off we went to our respective assignments, feeling agreater confidence in teaching the students now that we were no longer first-week novices. At the end of the day, each member reported that things havegone well. Team members continued to have productive days with their classes. As usualwe learn from the innovations that fellow volunteers share and thus the richexperience of being a Global Volunteer continues.
Page 19
19They also carried candles and surrounded the initiates. A leader would thenshout a command to the freshmen, who were then required to kneel and/orchant or perform some humiliating activity, but it was obvious that all werehaving a great time. A few local policemen were at the narrows to avert driversfrom disrupting the parade.MONDAY"Praxe" is a centuries-old European tradition for initializing students into theuniversity community. Ritual, humor, and parody are some of the componentsof "Praxe."It was a wonderful sight to see the candles and robed students surrounding thevulnerable new students with all continuing the tradition through the narrowcobblestone streets with family and friends witnessing this year's Praxe in atown established during the Roman Empire.We made our way back to the hotel for our usual nightcap of Port, and I fellasleep with the wonderful images of this special experience.
Page 20
At the end of class, she told the students that I had pleaded their case and hadconvinced her to cancel the penalty. This was because she really wanted her ownbreak and "needed a coffee!" The class thanked me over and over again andhugged me on the way out. I had saved the day! What a way to make points! In Jose's class we worked on the same lesson as in Irene's class. Near the end ofthe period, he became very serious and pretended to assign a very long pagefrom the workbook to be copied out as homework. I protested vigorously andsaid that was way too much. He kept saying, "No, no. They had two days tocomplete the assignment and it was good for them to practice their English." Wewent back and forth several times, complete with gestures, facial expressions,and much acting out of our parts. He finally relented and gave them theassignment they had always planned.The class really enjoyed our little "play", laughing at my pleading and theseriousness of the strict teacher. Again, the class thanked me profusely andclapped. I was thanked and hugged for "saving the day." And again I scoredHJHJHKJJJJJKH 20BEVERLYT U E S D A YI had two classes today, both sixth grade, which is the second formal year ofEnglish. The first class was with Irene Galrito, the second with Jose Almeida. Bothteachers have a very good sense of humor and we enjoy joking with each otherand with their classes. In both classes, we worked on pronouns. I would read asection from their workbooks and a student would respond by reading thesentence back with the correct pronoun. However, in Irene's class the studentswere very talkative and difficult to settle down. She became rather annoyed andbegan to mark them down on the chalkboard with one minute, two minutes, etc.off their break – like staying after school. But this means that she also loses timefrom her break. So they settled down but then again became disruptive. Thispattern continued for a bit.
Page 21
points. It was a fun experience in both classes. Irene even asked me if I couldstay on until June, but I had to politely decline.In the afternoon Carlos joined us and Joaquin gave a talk on Portugal – a bit ofits history and culture and most especially, the history of Fado, a musical stylewhich arose in Lisbon. It is usually sung as a solo with themes of sadness,poverty, and loneliness.TUESDAY21On to my adaptation of the 43rd Sonnet from the book, "Sonnets from thePortuguese", a collection of 44 love sonnets written by Elizabeth BarrettBrowning.How do I Love Thee, Beja? Let me count the ways.1.) I doth love getting my yearly "fix/high" working with children and adults,helping them to learn and speak better English.2.) I doth love establishing new friendships with our very wonderful, smart, andcaring volunteers – Cathy, Laurie, Maho, Ron, Claire, and Marcia – and "leader",Joe.3.) I doth love satisfying my love of connecting and bonding with my students, ifonly for a short time.4.) I doth love learning and immersing myself in another country and "learningfrom the natives" (Carlos, Maria João, hotel staff, restaurant owners, waiters,waitresses).5.) I doth love thee, Beja, because of your peacefulness, your friendliness, andyour delicious pastries!6.) And, finally, I doth love thee, Beja, for making me realize again how very luckyI am that I can still volunteer (even though I can't hear so well anymore) and Idefinitely feel that I (as the cliché says) always "get more than I give".Beja, doth I protest too much?
Page 22
D o o n e t h i n g e v e r y d a y t h a t s c a r e sy o u .~ Eleanor Roosevelt
Page 23
Basically, I had a chance to witness the full spectrum of life, and this is what Ilearned: "The way you see people is the way you treat them, and the way youtreat them is the way they become." (Wolfgang Von Goethe) How did we end up the way we did in this life? Didn't we all start out on a blankcanvas, full of hope, curiosity, and potential like those children inkindergarten? Why did some of them continue to flourish while otherslanguish? What happened? When did they take the wrong turn? Why did theygive up? Who hurt them? Did anyone even care?As the children grew older, you notice the fine fault lines and silent tremorscrisscrossing beneath every classroom that represented a microcosm ofsociety: The girl who gets to travel to London every year to practice her English; the girlwho is told by her father, "Don't bother, school is a waste of time for youanyway"; the parents who can afford to bring in a large chocolate cake andjuice for the entire class so that they can celebrate their son's birthday; theparents who can barely make ends meet; the boy who practices his musicalinstrument every day so that he can join the orchestra and travel around theworld someday; the girl from a broken home who acts out in class and is heldback for another year; the construction worker who is learning Englishbecause he wants to find a better job to provide for his family after prison; theyoung man who is recently incarcerated and concerned about the welfare ofhis children. 23JOEW E D N E S D A Y
Page 24
As you can see, the last ten days were mostly filled with heartwarmingmoments, but there were also some heartbreaking moments that will stay withme forever. In some way, aren't we all just one decision away from making theright or wrong choice in life? Fortunately, most of us here somehow made it inthis world because someone actually did care about us along the way. I hopethe students in Beja know that we cared about them even for a short period oftime.WEDNESDAY24Singing the catchy "Continent Song" by Cathy who taught them that learningcan be fun; Reciting the charming "Mice and Cat" fable by Laurie who encouraged themto learn a new language;Recalling all the funny, family stories by Bluma who reminded them thatlaughter is the best medicine; Running for office like Marcia, who taught them how to fight for justice; and Finally, making a promise and keeping it like Claire and Ron did, whoreturned to Beja to volunteer in their schools again. When the students are in need of a little bit of tender loving care, I hope theywill find strength from and remember us by:It was indeed a privilege to serve the community of Beja with Global Volunteersand in some small way, I hope I made a difference, too.
Page 25
Today was a day of magical moments:Joe was well received this morning in his meeting at the nearby village of Cubaabout new projects together. The chilly morning gave way to a beautiful spring day with the temperaturereaching about 70 degrees by late afternoon. The climate here in Alentejo isfamiliar, being so similar to the northern California region that Mary and I callhome. Spring and fall are the best times to visit our area and based on thewonderful weather we've experienced over the twelve days we've been here inBeja, I've got to believe that spring here will be magnificent.For the first time since we've been here, today I saw two buses of tourists visitingthe Beja Castle. This town, though the capital of the Alentejo district, does notseem to get a significant number of tourists like Évora, the city we visited onSunday, does. There have certainly been out-of-town guests staying here at theHotel Bejense and at the other hotels in town, but until today they seemed to behere visiting for work or family reasons. Hopefully our team has done its small part in bringing a sense of Americangoodwill to the people of Beja. I think we have. 25CARMENT H U R S D A Y
Page 26
Esther and Jeff taught yesterday in a fifth-grade classroom that hasn't had avolunteer in several years because they had a bad experience with a previousvolunteer. Today our team leader, Joe, got an email from the teacher sayingwhat a great time the class had with Esther and Jeff and letting Joe know shewould like volunteers in the future. Nice work!Mary was asked to visit an additional class today that was not scheduled to havea volunteer.Jim and Mary had lunch at a small restaurant where the proprietors do notspeak English. In addition, the place was crowded and there was only oneperson working, who was both cooking and serving. A nice woman sitting at thetable next to us got us water to drink, made sure our order was taken properly,and brought our meal to us. She recognized that we don't speak the languageand made sure we were taken care of. It was extremely thoughtful of her. TUESDAY26Our team meeting was brief, consisting of an overview of the paperwork each ofus needs to complete before the end of our program and a roundup of today'sstatistics. We needed to get an early (8:30 p.m.) start because tonight was thenight of the long promised "black pig" dinner. It certainly lived up to the hype.Dinner was at O Toi Farois in Porto Peles. Food was delicious and plentiful. Asusual, we had a great time together and did our best to eat all of the food,including a few desserts to share.Time is running short and our program will end in only two days. I think it is fairto say that we will all miss the beautiful children, great food, and the wonderfultown of Beja that is so rich with history.
Page 27
What can I say about our time spent here? Numerous highlights haveovershadowed the occasional obstacles that have presented themselves. Wehave met welcoming, dedicated teachers and cheerful, eager students; eaten atsmall family-run restaurants serving dishes created from the freshestingredients; taken scenic rides through the peaceful countryside; and beenintroduced to colorful local residents unafraid to share their opinions onanything and everything. So, we came, we saw, and we were, won over by thewarmth of the country and people of Portugal. There is little doubt that becauseof our recent experiences here, many of the team members will return to theIberian Peninsula in the near future. Joy is what I feel about the experience Ihave had in Beja. For two short weeks, we were all here, connected, andpurposeful. We are leaving as friends, and as we go off into our different paths,we will always have that connection.For now, Adieu, Beja!As our time in Portugal winds down, we look back at the last two weeks withfond memories. Two weeks ago, we started out as a group of strangers — wewere volunteers from multiple states; we were teachers and they were students.We were visitors in Beja. In two short weeks, we became friends with each otherand with our students. We became familiar with the local shopkeepers, thehotel staff, and restaurant staff. Could it get any better? Today we all had a good, and rainy day! We all had classes and tutoring toattend to, knowing that the end was quickly approaching. We met up yet againfor dinner as a team and gave a cheer for our joys and accomplishments ofthese two weeks together volunteering in Beja. We ended our day by enjoying apastry from a nearby bakery, some strawberries, and a taste of 35-year-oldPortuguese port wine.27LUCYF R I D A Y
Page 28
375 East Little Canada RoadSt. Paul, MN 55117-1628 USA(800) 487-1074 | toll-free(651) 482-0915 | faxglobalvolunteers.orgemail@globalvolunteers.orgGLOBAL VOLUNTEERS GlobalVolunteersglobalvolunteersgloblvolunteers