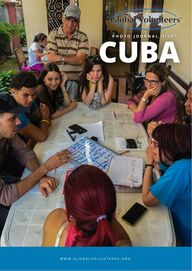 Return to flip book view
Cuba Photo Journal Digest
Page 1
W W W . G L O B A L V O L U N T E E R S . O R G
Page 2
Global Volunteers' service programs adhere to our over-arching Philosophy ofService in every community. Specifically, local people are always in charge ofwork projects, and volunteers contribute to community-driven initiativesalongside local people. At all times, we observe our policy stating "Safety TrumpsEverything." Orientation sessions are conducted on the first day in-country, andmorning and evening meetings give volunteers time to organize and reviewactivities. The team journal, shared at morning meetings, is a mainstay of every GlobalVolunteers program. A daily collaborative report by one or two team members,it reflects on the day's work and experiences. In many partner communities,volunteers contribute to several projects in different locations during the day.Through the team journal, volunteers hear about the projects and experiencesof their teammates. 2While such journaling requires effort, most volunteers report they love thevariety of recollections and stories. The journal becomes an enjoyable way tocommunicate shared and individual memories, and becomes a unique keepsakefor each volunteer team. Volunteers tell us that many years later, the teamjournal allows them to reminisce and cherish their time spent with local peopleand teammates. ebsite for available service program dates.This journal digest, complete with photos, is a collection of journal excerpts fromvolunteers serving in Cuba. The first week of this journal (pages 3 - 21) includesentries from Havana and the second week (pages 22 - 40) includes entries fromCiego de Ávila. Check out our website for available service program dates.
Page 3
Page 4
To experience CubaTo learn SpanishTo make new friendsTo be usefulTo improve U.S.–Cuban relations through people-to-people contactsTeam members arrived throughout Saturday afternoon and early evening fromCalifornia, Minnesota, New Jersey, Ohio, and Texas, all of us greeted by Karen,our leader, from New York, and Gema, our in-country host. We wereimmediately fascinated with the variety of both classic and contemporaryvehicles at the airport terminals – everything from 1930 Peugeots, 50s Chevysand Fords, as well as new Audi taxis and city buses from China. All of us werewarmly received by the hosts of the casas particulares at the various apartmentsin a lovely part of the city with wide avenues. Our first dinner was at a beautifuland elegant restaurant at a private home within walking distance of ourapartments. It was a wonderful welcome to Cuba, which we appreciated.Sunday started with a fabulous breakfast spread at Casa Lesbia. We met theteam at the Cuban Council of Churches at 9 a.m. for orientation. We didintroductions, talked about why we had chosen Global Volunteers, and set teamgoals: We also set our Characteristics of an Effective Team and talked about safety. NICK4S U N D A Y
Page 5
After lunch, Indira led us on a walk through Old Havana. We saw the Cathedral,the Johnson Drug Store Museum, the hotel Hemingway stayed at (AmbosMundos), and the bar he drank at (La Bodeguita del Medio), where we haddelicious mojitos! We also saw many beautiful buildings and streets.At 6 p.m. we met with Gema Montes and Aymara Cepeda and saw a film aboutthe Cuban Council of Churches and its many service projects and work withgovernment ministries to improve living conditions in Cuba. Aymara told us that28 of Cuba's 60 denominations belong to the council, which has 50 employeesand 1,000 volunteers. The goal of the council is to be a bridge to dialoguebetween the different denominations "United to Serve", Eduardo explained. SUNDAY5Later we had lunch at Café Song – delicious! We were joined by EduardoGonzález, COEBAC General Secretary. Eduardo talked about the importance ofAmericans coming to Cuba to show support and love for the Cuban people – toget past the bad things we have been told about each other. He talked abouthow hard it is for Cubans to get visas to the U.S. and how popular Obama washere when he visited. He said the moves toward normalcy he made were"because of many people like you who come here to build bridges."
Page 6
Then we went to another excellent restaurant and ate too much. Then some ofus went to Karl Marx Park to use the Wi-Fi. I still find myself remembering "I'm in Cuba!" and not quite believing it. Cuba hasbeen a land of mystery – a forbidden fruit – for so many years, and here we arejust walking down the street and going to restaurants like it is anywhere. It isbeautiful and warm and inviting and I feel like I will barely scratch the surface in aweek here. I really want to make the effort to talk to more Cubans and get abetter feel for life here. I wish I spoke more Spanish – I don't want anyone tothink Americans don't even bother to try. And I don't want to waste this amazingopportunity.SUNDAY6Salvation Army nursing home – 30 seniors. We will help entertain and engagethem (four volunteers) and do painting (two volunteers).Fuente de Salvación Misionera – One person will help lay tiles and one willhelp with sewing and knitting.In the evening, we will do English conversation.We talked about our projects this week:We divided up the jobs (Rick and Deb will do painting; Eduardo – tile; Michelle –Sewing; Karin, Ellen, Lindsey, and Hilary – Senior home).
Page 7
As the day went on, we became locked in an endless cycle of bingo, first withKarin calling out, then myself. Let me tell you that clearly enunciating barelylegible numbers to a room of high stakes bingo ballers is a true Spanish pressuretest. Our time at the senior home concluded with the residents trickling into thedining area to enjoy Jim's potatoes as one of the residents sang to me. Next, the group headed to the Hotel Nacional for some R&R. I was able to accessthe internet after burning some much-needed funds, but it was worth it toconnect with some new friends, download some podcasts, and call my mom.Unfortunately, I missed some quality opportunities relaxing by the ocean view,buying rum/cigars as per Jim and Karin, or exploring missile bunkers and cigarmaking as per Paula and Soula (I'm really jealous about that one). I arrived readyto depart on time, as always.7KARINM O N D A YAt long last, the reason we're all here: the first day of volunteering. An eclecticmix of experiences made itself known as soon as we arrived at the senior home.Karin, immediately received as an old friend, set the tone of comfortability as weall settled into our new roles as volunteers. The day progressed much like itwould have volunteering at a senior home in the United States. Paula, Soula, andmyself immediately became engrossed in a puzzle, or as they say in Spanishrompecabeza (brain breaker). Jim, with his experience with Meals on Wheels, wasput to work peeling potatoes and impressively retained all ten digits!
Page 8
Upon return to Miramar, we had some time to rest up prior to Englishconversations. I went outside where I found our host working on his car. A 1949GT originally owned by the Dutch Mafia (who knew that was a thing?) but I got amuch better appreciation for the orgullo de coche (pride of a car). Others read,showered, or napped. During English conversations, we split into groups. Paula and Soula wentthrough flashcards with a set of beginners. Karin did the same. Normanreconnected with Frank: a surgeon and former student, as well as a new studentwho was an English tour guide. I talked about movies, beaches, and culture withEduardo. MONDAY8
Page 9
I n d i v i d u a l c o m m i t m e n t t o a g r o u pe f f o r t - t h a t i s w h a t m a k e s a t e a mw o r k , a c o m p a n y w o r k , a s o c i e t yw o r k , a c i v i l i z a t i o n w o r k .~ Vince Lombardi
Page 10
10JINT U E S D A YAs dawn broke on a sleepy Cuban Tuesday, Mike awoke to the sounds of DoñaLalila putting the final touches on breakfast. The inviting smell of ham andcheese sandwiches, coupled with the suggestion of egg, drew him to thekitchen, where he met Lynn and Daniel for a sumptuous breakfast. Mike nibbledon a humble papaya salad as Daniel sipped his coffee and Lynn cupped her tea.After a respectable sobremesa, we bid farewell to Doña Lalila with her maternalkiss on the cheek and a "tengan un buen día, mis amores" ("Have a good day,my loves"). We were off to the Council of Churches for our second day ofservice.At the COC, we quickly hustled into our van with the ever-reliable Lauro at thewheel and headed off to our volunteer assignments. Arriving at the nursinghome at about 9:15, Carmelina, Lynn, Mike, and Daniel alighted from the vanwhich then departed to transport Karen, Dana, and Brian to their assignment.Once the residents and day visitors at the nursing home had finished theirmorning prayers, we greeted each of them with a customary beso y un abrazo(kiss and hug) and when all the saludos (greetings) were complete, we organizedinto actions. Lynn and Mike drummed up a rousing game of Rummikub, whilstDaniel mastered Dominoes, and Carmelina engaged with the residents.Although Mike and Lynne were novices at Rummikub, a kind of gin rummy withnumbered tiles, Lynn showed all the skills of a Vegas card sharks as she handilytrounced her competitors in two consecutive rounds.All the activities morphed into a full-fledged game of Bingo which had just abouteveryone on the edge of their seats. Even the Norwegians could not resist thenail biting suspense as Carmelina called out the letters and numbers in Spanishand then in English. When "Bingo" was inevitably pronounced, palms beat thetabletops in celebratory unison and a lanyard medallion was bestowed uponthe lucky winner.
Page 11
Alas, as the French say, time flies when bingo balls are tumbling and all too soonwe return to our van and make our way to pick up Karen, Dana, and Brian. Weheard that Dana had made significant progress with her knitting circle, Brianhauled even more dirt than the day before, and Karen took up the art ofstripping fabric. A quick ride to the COC returned us just in time for lunch, which included salad,turkey, chicken, and a delectable rice pudding seasoned with a splash ofcinnamon spice. After lunch, Lauro transported all the volunteers to the San Josémarket for what proved to be a truly cultural experience. We worked our waythrough the narrow stalls oohing and ahhing over original Cuban art whilepolitely bypassing the ubiquitous and sometimes overly aggressive magnet andt-shirt merchant. After a nap at our designated casas particulares, we returned to the COC justbefore 5:30 to prepare lessons for the many students we were assured wouldarrive. Carmelina and Lynn quickly joined up with their returning students havingworked with them the day before. Karen was matched with a budding artist andBrian had the pleasure of tutoring a brilliant high school student withremarkable English proficiency. Dana joined Lynn and Mike joined Brian to assistthem with their teachings.The setting of the sun signaled the end of another productive day. We bidfarewell to our learners and encouraged them to return the next day. Danielescorted us to another open-air establishment where we relished a satisfyingmeal and recounted the events of the day. We made sure each of us returned toour homes safely and bid each other a good night and a great tomorrow. TUESDAY11
Page 12
The painting crew is making great progress with plenty of help from the staff.Every time Antonio came by to check on us, I had to fight the urge to scrape thetiny dot of paint right on the tip of his nose. We don't know each other THATwell yet.After lunch, we made a trip to Revolutionary Square hoping to gain entry to theobservation platform at the top of the tower. Due to some military program inthe tower, we weren't even allowed entry to the grounds. We did get to see thegiant sculptured faces of Che and Fidel on two large government buildingsfacing Revolutionary Square. There is a huge multi-lane street separating thebuilding from the tower. It has become apparent that crosswalks and/orslowing for pedestrians are concepts yet to be grasped in Cuba. Beware!12CARMELINAW E D N E S D A YDay three and the neighborhood is already beginning to feel like home. We leapand skip over the broad concrete sidewalks and smile and nod to the localswaiting for buses and taxis as we walk to the council for the morningrendezvous.At the nursing home, the residents greet us with smiles free of skepticism andour crew get right to work with them, coloring, painting nails, and playinggames. The decibel levels are noticeably louder from the banter and laughterthan they were the first day. One of the residents is, in fact, the 1970 Cuban andCentral American High Jump Champion. Her name is Hilda Fabre Ramos. In1963 there were no spikes for the track shoes to be found in Cuba. Hilda told astory of attending an international competition and having an American jumperloan her their shoes. She said the Cuban and American athletes always gotalong well. Hilda is full of joy and smiles readily.
Page 13
We decided to relax, check out some shopping back in the "hood", and enjoy abeverage so some could also enjoy Wi-Fi for the afternoon. Language classeshosted eleven adults and two children for the evening. Karen and Lindsey haveorchestrated great, fun, active group games to break up the two-hour timeperiod.Dinner was at Hecho with Alena, and this time she showed us upstairs and outon the balcony. Hopefully we can have dinner there Friday. After the firstseventy-two hours seeming like seven days with all we packed into them, I amstaring at only two days remaining. I am feeling like the very idea I am in Cubawon't really hit me until I am no longer in Cuba. What then?WEDNESDAY13
Page 14
We pick up Katherine on our way to the churches and drop off John, Karen, andJanel. The ladies at the church once again greet us with enthusiasm and continueto encourage us with making new craft pieces. I finish my second knitting squareand then started making these cute, colorful, and creative necklaces made out ofa special fancy thread with Bertila. Janet has better luck with the sewing machinetoday while Kathy continues to impress and impart her wisdom on the ladieswith her gift of artistic craftsmanship. Noreen does a great job withunderstanding what the church may or may not need with future volunteerdonations. We also enjoy a delightful local pastry called a doboch.We pick up the rest of our volunteer family and head towards the church forlunch. As we drop off Katherine, I was suddenly saddened by the realization thatas excited as I was to come to Cuba, I am now faced with the trip coming to avery quick end and that the relationships that we have built have become quitemeaningful. From the local friends at the church and in the community to mynew volunteer friends, everyone has a wonderful story to tell about their life withlessons that I can learn from.Thursday morning started with the delicious Cuban coffee and a walk with mywonderful housemates to the church for our morning meeting. Kathy shared avery moving reflection of her previous day, where Ed shared some ratherinteresting poems of what we have realized is a questionable yet entertainingchildren's poetry book. A few of us gave money to Gema since she so graciouslyoffered to buy us local coffee from the local markets. Although there are manygreat things I look forward to in our day, one of my favorites is always gettinginto our van for our ride around the town. Observing the locals on the street,noticing the different architecture, and being mesmerized by the classic andcolorful cars driving around us. It seems to place me in a live action time inhistory, and I just can't seem to get enough of all of it.15TIMT H U R S D A Y
Page 15
Lunch was wonderful and very interesting as Imera shared information on aglobal movement called Thursday in Black which is providing awareness aboutdomestic violence and rape. It's heartwarming to hear that the church is heavilyinvolved and serious about these actions. For them to bring voices to and byproviding support to victims, shows how much they care about theircommunities and are willing to protect these victims. It's a remarkablemovement to see in a machismo-dominant culture.Our afternoon activity is exploring and creating our own adventure in La HabanaVieja (Old Havana). Kathy, Janet, Janel, and I see the beauty of old Havana andsome infamous sites together. This was a cultural immersion that I think we allreally enjoyed.THURSDAY16Lastly, English lessons today turned into a one-on-one with Orestes, which wasactually quite enjoyable. Two hours of conversation went by effortlessly with hisimproving English, talking about one very unexpected thing we have in common—Bollywood! He shared his passion for films and music. I shared my passion formy Indian culture. His vibrant, bubbly, and positive personality is one I amundoubtedly inspired by. He's so full of life, energy, and motivation that despiteany hardships that he may have faced, and I may not know about, it's obviousthat he has faced them with a graceful smile and humility. I will be grateful toshare his story with my friends and family once I return home.
Page 16
Highlights included Kathy, Karen, and Noreen's excellent dancing with theancianos, a sultry and spirited poem written by one gentleman to his wife, andthe Cuban National Anthem sung with gusto. After an extravagant lunch servedby the lovely lady chefs at the Council of Churches, we were led by Amy, a highlyeducated professor of English to the Memorial of the Denunciation of U.S.terrorism against Cuba. The experience was very heavy and left me in acontemplative mood.Our tour guide was very informative and showed us as much as she could withlimited time. We then walked leisurely back to the Council of Churches for a veryinformative lecture by Amy.17KATHYF R I D A YAs I enjoyed the obligatory three cups of café needed to start my day, therealization set in that this would be the penultimate breakfast with myhousemates and adopted parents, Tío (Uncle) Eduardo and surrogate motherKathy. Then began the daily jog to the Council of Churches, and our finalmorning meeting. I wiped the sweat from my brow and sat down promptly at 9:00 a.m. We tookthe guagua (bus) to the Salvation Army Nursing Home for one last hoorah withthe ancianos (seniors). Our final day consisted of cleaning, dancing, poetry,songs, and mutual appreciation. The volunteers appreciated the opportunity toknow and help and they appreciated our presence and time.
Page 17
We then said our final goodbyes to Gema, who had to leave early for the day.She had been undoubtedly helpful and lovely to us. I even thought of shedding asingle tear because I was so deeply touched by encountering such a bright soul.Before English class, we completed the final paperwork.The final class was bittersweet. There were a few speed bumps caused byweariness from a long week, but the estudiantes (students) powered through andmade it to the end with knowledge, delicious cake, and smiles. Fun times werehad by all. FRIDAY18As we walked to our last supper at Hecho en Casa, I could not shake a certainambiguous feeling. Although I am ready to return to my loved ones in los EstadosUnidos (the U.S.), I know feel invested in the success and further education of losniños (the children). I want them all to excel and achieve great heights. I knowthat with the love and guidance of their local community, especially the lovelywomen and men of the Council of Churches, they will be steered in the rightdirection. I will leave tomorrow feeling fulfilled.
Page 18
After a brief Q&A and a welcome stretch, we sat down for a second presentationon Cuban education led by Amarelis, while Daniel entertained her smartlydressed yet rambunctious eight-year-old daughter. Amarelis stressed the valueCuban society places on education, partly since the country's cultural hero, JoséMartí, was himself a teacher, who through his prose and self-sacrifice inspiredthe Cuban people to embrace the identity of a nation. Amarelis engaged us in acomparative discussion about education in the U.S. and Cuba, which gave usmuch to think about. After the presentation had ended, we headed to the van, again driven by theindispensable and by now very familiar Lauro. Climbing three flights of a windingmarble staircase, we stepped outside to a top floor café with a marvelous view,complemented by the sounds below of a horse-drawn carriage echoing a bygoneera. 19BRIANS A T U R D A YOne week in Havana and our six fearless yet humble Global Volunteers convenedat the Council of Churches at 9 a.m. sharp for conferences about Cuban historyand education. First, Rev. Dr. Uxmal Livio Díaz Rodríguez gave a discourse onCuban history, beginning with the colonial period under Spanish rule, next theneocolonial period marked by heavy American influence, and finally, therevolutionary period, starting in 1959 and continuing today. The conversation was highly informative and, at times, politically charged, but thethemes of cross-cultural understanding and the hope for better relationsbetween our two nations weaved their way throughout the discussion.
Page 19
After lunch, we were joined by our local guide, Guillermo, who accompanied usto the Ernest Hemmingway house some 20 minutes outside of Old Havana. Aswe peered through the open windows and doorways into a scene from the life ofold papa, tragically cut short by the ravaging disease and the merciless grip ofmental illness, we realized why the man was so beloved by the Cuban people.Not for his books, his women, or his trophies of big game, but because heembodied the soul of two nations forever linked by their geography yethistorically divided by their ideology. Although the man is gone, his memory isimmortal, and as we walked the grounds of the quinta (ranch), we could almostvisualize papa pouring himself another glass of Havana rum or bobbing in the in-ground pool.At the conclusion of our tour of the Hemmingway house, Guillermo set off forparts unknown while Lauro drove us back to the COC, this time choosing a scenicroute through a valley of dream-like trees.SATURDAY20Following a mid-afternoon break, we reconvened at the COC at 6:20 p.m., only tobe surprised by the presence of a candy green 1948 Chevy Fleet Martin and alilac 1956 Ford Fairlane at the ready to take us to dinner. Although the restaurantwas only blocks away, our drivers set off for an extended tour through the city.With the tops down, we took in the sights and the night stars, feeling trulyprivileged to be able to experience something so unique and in such a uniqueplace. Our drivers made a stop at Revolution Square where the larger-than-lifevisages of Che Guevara and Camilo Cienfuegos, made even more impactful bytheir illumination, kept a watchful eye over us as we reflected of the space andits significance for the Cuban people.We returned to our vehicles and resumed our trek to the restaurant. We wereseated in the back patio, free of other patrons, at a table tastefully set for seven.Karen, Carmelina, and Daniel opted for the ropa vieja, while Dana chose thehealthy option of the fish, and Mike, Brian, and Lynn played it safe with thechicken. Our entrees were complemented by rice and chips. We took a shortwalk back to our casas and wished each other good night.
Page 20
The day continued with a lecture. The lecture was engaging and insightful,revealing the history of Cuba, America's involvement throughout itsdevelopment, and the promises made and policies implemented as a result ofThe Revolution. The topics generated some strong thoughts and emotionsfrom within our group, which sparked a lively question-and-answer session.When the talks concluded, the group piled into the van and set out for lunch,which was located in the basement of a building in the heart of Old Havana.The food was fantastic!Sunday was a great day for me personally and I hope that it was for others aswell. Karen lead us through inclusion, encouragement, and participation. Herpassion for the program is infectious and its obvious she has a team of like-minded individuals. It appeared to me that Cuba the country is exactly like theCuban people. The morning and beautiful warm and inviting Guillermo took usthrough Old Havana by foot from plaza to plaza. We learned an honest "non-party" line view of Havana's history and possible future. Cuba's diversity wason display as we walked the narrow streets - cathedrals, museums, and even amosque. Some buildings opened up to beautiful atriums full of flowers andtrees. Cuba's loving heart and companion were exemplified by Muraleando, an artistcommunity for the beautification of their area while providing education,support, and artistic expression for those with disabilities. Victor, our guide,showed many stories about the origins and work that it took to transform anabandoned water storage tank, covered by garbage, into a nationallyrecognized art program. 21LYNNS U N D A Y
Page 21
When we made our way back to the church that evening, two gorgeous classiccars were waiting for us. We squeezed into them and took a memorable ridethrough the streets of Havana before being dropped off at our restaurant fordinner. Lots of pictures and an enjoyable stroll back to the casas capped off aday that I will never forget. One of my best days yet, I truly felt like I lived here!SUNDAY22
Page 22
Page 23
Then, we learned about the ways we would create bridges: through gardenwork, through labor projects, and via conversational English. We saw thelandmark bridge as well with domino tables, iron work-out machines, and abasketball court.We then gathered to take horse buggies into town where we saw a crazy linefor ice cream, and exchanged some money. We finally made our way to churchand were pleasantly greeted with handshakes, hugs, kisses, and warm smilesfrom the Cuban people. 24LIAMS U N D A YThe day started with breakfast at 8 a.m. We moved to another room to beginorientation. We were handed maps of Ciego and service planners. Onceeveryone arrived, we began introducing ourselves with a little more detail. Wegot to know Cat Lover Robin, Boy Scout Tanner, Production Designer Aedan,Bagpiper Eric, Renaissance Man Donny, and the team leader - Basketball CoachLouise. After introductions, we discussed Global Volunteers' guiding principles, policies,and guidelines as we prepared to serve the community. We wrote down ourpersonal goals for the trip on colorful notecards. With laughter and someserious thinking, we combined our ideas to arrive at team goals for our days inCiego de Ávila: to build bridges, to learn about Cuba, to serve the localcommunity, to have fun. Additionally, we agreed on sixteen Characteristics of an Effective Team: mutualrespect, trustworthy, good listeners, clear communicators, flexible, resilient,supportive, empathetic, good sense of humor, accountable, honest,transparent, organized, punctual, and self-motivated.
Page 24
Another unexpected treat occurred as some Global Volunteers walked back toour casas particulares. A big brown '58 Chevrolet with a driver happy to pose forpictures let Ingrid sit in the driver's seat. Along the path thru the park appearedgloriously-created creatures. Creatures made from rusted junk metal parts: anowl, a spider, a crocodile, a hedgehog, a porcupine, and more. Rusted metaltransformed by some creative Cubans into fantastic animal visions.At dinner, the topics ranged from Robin's cat adventures, to various TED talks todelicious black bean soup recipes. Once the delicious food was eaten and thechatter ended, we all went back to our rooms to get some rest and prepare fortomorrow. As we complete our first day in Ciego de Ávila, we became a little less blind aboutthis place and its people. We are seeing. We will continue to see. We are movingtowards the Ciego clearing. I knew I signed on for something special, but I had noidea I would be this motivated and even fulfilled after just one day.After church we made our way to the community center where we were given atour and had a lovely meal of chicken and rice with amazing coffee. We savoredthree-layered coffee, cappuccino with orange and white flowers, chocolate icecream, and espresso while something not exactly conversational Englishhappened as Janil explained CUCs and pesos, dominos and chess academies.When you don't have expectations, fun happens.SUNDAY25
Page 25
We started our first day with breakfast at 7:00 a.m. and were on our waywalking to the organic garden to do some weeding of several plots thatcontained radishes. Cindy, Sally, Pat, and Yanel worked hard for several hours. We were prettymuddy and we cleaned up where the workers had several basins of water –one to wash in and one to rinse. We saw several customers buying onions atthe stand. This structure also served as a storage place for tools and materialfor the garden. The garden contains avocado trees, basil plants, cucumbers,carrots, beets, chives, and various other vegetables in 80 large concreteplanters which are each 6' x 120'. The work is enjoyable, and the conversationswith Alex and Yanel are great.We left the garden about 10:00 a.m. and walked to the church. The women atthe church are doing various duties, while Tanner, Mary, and Yadi are workingon the rugs. Tanner is enjoying the conversation and therapeutic nature of thework, and is excited to go back again the following days. By the time we arrive,he is expertly completing the task, with only a short break to enjoy Yadi'scoffee (which she humbly says is not very good). The Cuban coffee is verystrong, flavorful, and in small espresso-sized cups. Tanner downs his, andagain repeats his goal of reducing his coffee and caffeine habits once he leavesCuba "because the coffee is just too good to stop now".26EMMAM O N D A Y
Page 26
Around 11:00 we all depart for the short walk to the community center. A youngcouple met us outside the center and said they needed some help preparing foran English test the next day. They had a sheet with 68 questions that they couldbe asked and were to be judged by a panel of three teachers from their tradeschool on their ability to answer in English. They were taking classes to helpthem get jobs in the tourism industry. A friend joined the couple some minuteslater. He wanted to improve his English so that he could work as a captain of acatamaran in the tourism industry and take tourists scuba diving. He did notattend the trade school with the couple and was self-teaching himself English.We all asked the questions and had the three English learners respond. Wemade some pronunciation corrections that they were eager to get. MONDAY27We stopped working on English instruction and had lunch at the center about1:00 p.m. We left the center and took a horse drawn carriage to the city centerwhere there is a Wi-Fi park. We used the cards that Cindy had given us andregistered with the cards to get Wi-Fi. Lots of Cuban people were there doing thesame thing. We left the park and Sally and Pat went back to the hotel via carriage pulled by abicycle driver. At 6 p.m. Sally, Pat, and Cindy walked to dinner near the centerand got to the center at 7 p.m. to teach some more English. We all separate andare matched with the individuals who are ready to begin their sessions. Pat tookthe "twenty somethings" to work on their English further. Sally, Cindy, and Yaditook four beginners. There was much enthusiasm from both groups, but theolder ones were much quieter.
Page 27
The couple I am matched with (Melissa and Leandro) are both attending classesto become receptionists at one of the beach resorts because they believe thatthese are some of the best jobs available to them. They wanted to practicehandling a telephone reservation, an in-person reservation, and check-ininteraction (all of which we act out, using our cell phones as props). Melissa alsohas a notebook with specific questions on how best to respond to variouscustomer queries and requests. They are disappointed that I will not be here fora full two weeks because they would like to maximize their time with mepracticing and rehearsing various interactions, but are happy that we will have atleast a few more days. In class tomorrow they are learning to deal with difficultand upset customers, and are eager to come with a new set of scenarios andquestions for us to act out and practice.We finished about 9 p.m. and returned to our casas particulares via horse drawncarriage. The group is off to their individual rooms to rest up in anticipation ofanother rewarding "bridge-building" day in Ciego.It was a full day with good company, good food, and a variety of things to do.MONDAY28
Page 28
Around 8 a.m. we set out with Yanel, one of the local staff members, on foot tothe community garden. Along the way, we passed a courtyard with dozens ofchildren in matching maroon uniforms which Yanel informed us was a primaryschool. He then proceeded to tell us more about the Cuban education system:children ages five to ten attend primary school in maroon uniforms, ages 11 to14 attend secondary school in yellow uniforms, and at 14 they decide to go tohigh school (in blue uniforms) or a technical school (brown uniforms).When we got to the garden, I was surprised to learn that at 40 hectares, it wasactually the size of a small farm. Before diving into the weeding, Yanel gave usa tour. Starting with the farm stand and wending through long-raised planterbeds, some of which contained vegetables I was surprised to see, including bokchoi and okra. On this tour we learned about some special Cuban plants suchas their cilantro, which smells like cilantro but has long oval leaves, and themoringa tree, whose leaves are made into a healthy tea and seeds which areroasted and snacked upon.30MARYT U E S D A YToday opened with an early morning breakfast of pineapple, guava, fruit juice,bread, and an egg "tortilla". We were serenaded by the sounds of the parrot inthe next door courtyard and the occasional barks of the dogs on the roof.
Page 29
Besides being very informative, the work was enjoyable and surprisingly relaxingand satisfying to see the weeds disappear from the radishes while listening tothe very good singing of a farm worker a couple beds over. The gardeners metup with the whole group for lunch and an afternoon of admiring local art,including the world famous Paiuget gallery which turns old forks, knives, spoons,and other metal scrap into extraordinary sculptures and jewelry. Besides thebeautiful and imaginative art, they had an impressive collection of unique cutleryfrom old resorts in Cuba and one U.S.-issue fork from Guantánamo Bay. Ourfree time ended with a meal of yucca, meat, salad, and plantain chips, along withtruly delicious Cuban cocktails.The day ended with two hours of conversational English. Both students andteachers seemed much more confident this second night, which resulted in fungames and conversations. Walking home tonight along a route that now feelsfamiliar, it is hard to believe that this was only the third full day.As we began to weed the radish beds, we peppered Yanel with questions aboutthe garden. He later returned the favor by asking us about our hometowns ofChicago and Sydney. We learned that the gardens are run by the ministry ofagriculture and started about 20 - 30 years ago after the collapse of the SovietUnion led to a decrease in agricultural imports to Cuba. Instead of usingchemical pesticides and fertilizer, they plant insect repelling flowers like "QueensHand" or "Manito de Reina" and sunflowers, have "scare bugs" made of sticksand water bottles, rotate the crops they plant, and replenish the soil with a richcompost made from sugar cane pulp.TUESDAY31
Page 30
Back at the center, Adelia showed us how to make espresso on the stove aswell as how to make the Cuban sugar cream. Adelia showed us photos of herson. He has a strong resemblance to her. I joined Pat and Rafael where theywere discussing Cuban history including Fidel Castro, Che Guevara, and CamiloCienfuegos.We met at 4:45 p.m. to go to the center for tutoring as the AA meeting istonight at 7:00 at the center. Leandro worked with Pat. Sally and Cindy initiallyonly have Analis. We decide to have Analis teach us Spanish words and we'llteach her English words. She is quite strict on Spanish pronunciation.Eventually, the other girls join and they are much calmer this evening. Wetaught them some new words and they all ran home to get their notebooks.They added the new words to their notebooks. Cindy discovered that littleCarol hadn't learned her ABCs yet, so the girls took over and began to teachher math. She was wearing a little headband with two antennas that had pinkbutterflies on the ends. Watching the girls work with her broke the cute factorscales. I think this has to be one of the sweetest things I've ever observed.We started early this morning at the garden. Yanel came to meet us around8:00 and we took a buggy to the garden. We were able to take pictures today,so we weeded a few beds and took pictures of the garden. Rafael joined us toweed but said he did not enjoy this type of work. After the garden, we wentdirectly to the center. However, we only had Rafael as a student today, so Patworked with him and Yanel took me on a tour of the block. We stopped at aration shop and he explained how every year each person gets a new rationbooklet. Everyone is rationed one or two pounds of sugar, five pounds of rice,and some bread, oil, and other staples each month.32CHARLOTTEW E D N E S D A Y
Page 31
After tutoring, we walked to a new restaurant. We watched Yadi get a bike ridefrom one of the adult students. They're very trusting here. I don't think I couldtake a ride on a bike like that. On the walk to the restaurant we stopped atManuel's house/school. He is an English teacher and spoke very good English.We met his parrot, who only likes him, and his pup, who was very friendly. Therestaurant was good and we had the company of some young cats and a dog. WEDNESDAY33
Page 32
B e l i e v e y o u c a n a n d y o u ' r eh a l f w a y t h e r e .~ Theodore Roosevelt
Page 33
Whether it's ground up or top down, Cuba seems a very resilient society.Making do, teaming up, and working around come almost unconsciously. Iwould certainly prefer a bit more polish in their daily lives, and I think mostCubans would, too. Despite outward appearance, most homes I've peered intoseem fairly comfortable. Most are freshly painted with solid furniture andsome form of decoration. Of course, the weather and climate push peopleoutdoors, so most have courtyards or some private outdoor areas outback oron the roof. Few dogs, but oodles of pet birds, many have them on thewindowsill, or in breezeways and passages visible from the streets.I'm feeling comfortable here. The lush vegetation, walking around in the heat,the conviviality of the populace, a generally positive attitude about the future -despite politics - all add up to a relaxing and engaging people, city, andcountry. 35ADAMT H U R S D A YI just love it here. Breakfast at 7:00 again before going to the garden. Today Adam went tocontinue weeding at the community center, while the rest of us go to theOrganopónico. It was started in 1992 after Russia refused to continue theSoviet support of Cuba. No longer able to afford the industrial agriculture ofsoviet days, local organic (by necessity) gardens were started across Cuba tosupport the Cubans' diet locally. Many are still going. This one is the largest inCiego de Ávila. It was built all at once, but took a while. Apparently June is avery low production month. They were harvesting carrots today and theradishes we weeded looked about ready.
Page 34
I'm so moved to have found two such hard-working, cooperative, flexible, andinteresting people to spend two weeks in Cuba with. All friendly and caring, too --both for each other and for the community we are here to serve. I'm still notsure who benefits more from this exchange, us or the Cubans. I know I havelearned about Cuba, about myself, about meaningful travel, about makingfriends in huge quantities. We are our own harshest critics - not thinking we'remaking a difference; yet ask one of our Cuban counterparts and they will gushabout how much they appreciate our visits. Just think how many of them havejobs serving the long line of Global Volunteer teams. And that's only thebeginning. How many friendships have been formed? Among volunteers,volunteers and various Cubans, and the Cubans who work to support us.Incredible.Diplomatic changes are making it more difficult to come here, but I have faiththat love will conquer and Global Volunteers will find a way to continue. I feelthis is a very important part of the process of helping Cuba be a fully engagedmember of the world community, normalize relationships between the U.S. andCuba, and to promote world peace. Let's hope it works. When I arrived at the center, all others were deep into an obscure card game.Also, the plantings were looking very trim. Adam reports he filled two and a halfbags of cuttings. It certainly showed. Lunch was the usual fare, meaning hugepitchers of cold fruit drinks – nectar of the gods! At our meeting we checked inwith our team goals and the characteristics of an effective team. It's really astatement that we hit them all, individually and as a team, without beingintentional about it. We are being ourselves in a new circumstance in Cuba -sometimes outside of our individual comfort zones - yet we have ticked off ourboxes of goals. THURSDAY36
Page 35
Now it's almost time to leave. What have I learned? By now the days in Ciegode Ávila have developed a familiar rhythm. Breakfast at 8 o'clock, served in mycasa by my host, Aracely. A feast of eggs and bread and mango and papayaand frozen juice, plus a thermos of the best coffee I've ever had. Since I haveabout eight words of Spanish – buenos días, muchas gracias, hasta luego,mañana, and baño – Aracely and I communicate mostly by smiles and nods.Still somehow she has made me welcome in her home, a significant gift, and Iwill remember her hospitality. After breakfast I have a few minutes in the Wi-Fi park, then a stroll to welcomepeople at the center by 10. Buffet lunch at 12, then a team meeting, quietafternoon, dinner at 6, students from 7-9. A good schedule. By now I also havemy new neighborhood. The streets from Máximo Gómez Park down to JoséMartí Square and up to the community center on Chicho Valdes, which is alsothe main highway across Cuba. We stroll down the graceful pedestrianBoulevard Independencia or three blocks back past the tracks to thecommunity center. We have our two regular restaurants and know the waiters.37PETERF R I D A YWho are these people? What is this place?I came to Cuba because of the opportunity, an invitation I could not resist.Cuba was so close and I knew hardly anything about it. I have stood on thesouthernmost point of Key West 90 miles away and felt I could almost reachout and touch it, but it was still a mystery. How could I not want to come here?I have a friend in New Jersey who is Cuban; after 30 years away, Cuba is stillher home. She speaks of it with longing and shows me such beautiful photosof her visits. Finally, I have a chance to see and discover it for myself.
Page 36
We meet as equals. If we offer help with English or gardening or sewing orsinging 'Guantanamera' off key, we are also constant recipients of gifts. We learnto appreciate Cuban culture – insights based on different perspectives, therichness of the Cuban spirit. Its resourcefulness, grace, humor, and delight in life.The spontaneity and openness of delighted children. Outside the center, wehave seen the brilliance of artists — dancers, musicians, craftspeople – and feltthe energy of the street. Soccer, ping pong under the bridge, immaculate carsfrom the 40s and 50s, 100 styles of horse carts and bike taxis, tai chi in the park.Ciego is called the city of porches. We can walk down entire blocks under theshade of porch roofs connected from one house to the next.Buildings are constantly being rebuilt and extended, signs of life and vitality. Lifeis full of intractable problems. We get lessons in diplomacy and politics – whatwe say and do not say about our two governments, changes in U.S. policy andthe sobering chance that future service projects here might be restricted – and inapplied economics. Families dealing with limited pay and scarce resources. Howthe down payment for a new house going up may have required working threejobs for ten years or a doctor working three years in Venezuela to save $10,000;how obtaining food each day can be a full-time job of networking to track downwhat's available and trekking to different places for eggs and milk andvegetables.What are the riches of Ciego de Ávila? There's the sunshine – be careful what youwish for; this can be overwhelming. There's time – for walking, for longconversations over meals, and gin and tonics. The real treasure, of course, is thepeople. The ones who greet us on the street or in church, but mainly the peoplewho come into the community center; they want to get to know us, to talk abouttheir lives and ours, to tell us as they practice English about their plans andchallenges, their strategies for living and determination to live rich lives. Many ofthem return day after day, developing relationships as they improve theirEnglish. We recognize familiar faces, people who have become friends. FRIDAY38
Page 37
39If the path to success in life is to work with people who are smarter and funnierand kinder and wiser and more experienced and better dancers than you are,then this has been one of the most successful experiences of my life. I cannotremember working this closely with any team of people where every singleperson was such a pleasure to know and a joy to work with. Every person on thisteam of Global Volunteers and local staff has made the project and my owncontribution better. I have not always been at my best for the last two weeks. Attimes, I felt exhilarated and on track but other times I've been hot and tired anddrained and had nothing to offer. There has never been a time when I did notfeel supported by the examples of the people around me. Every single person onour team has made me feel better about being a member of this group. I hopeI've been able to do a little of that in return.Cuba is still a big mysterious subject. But I offer thanks to all of you and toWilliam and Rafael and Melissa and Leandro and Eric and Osmeyer and Racheland Carol and Carlos and José and Paula and Paula her mother and Yadi andYanel and Junior and Edilia and Eduardo and all of my other new Cuban friends.Our lives have touched each other and are just a bit more intertwined.The inequality is stark. The price of our dinner or two rounds of drinks at theRueda might be a month's salary for a cabdriver or a doctor. The money we payto families for our lodging may double or triple their income while we are here.We also learn about ourselves – a self-selected group with a shared interest inserving Cuba – and have another luxury, that of spending two weeks in closequarters with a dozen new people from our own country.FRIDAY
Page 38
Our first stop was the Ciego de Ávila Museum, a fine and impressive collectionof artifacts dating back to the first arrival of Ameridians in Cuba throughcontemporary political figures and artists of the 50's, 60's, and 70's. Themuseum is housed in a handsome historical building boasting several originalbeams and an original tile floor. The displays and dioramas directed ourattention to items as varied as an ancient shrunken head that had belonged toa woebegone 15-year-old to machetes and the world's first barbed wire. We saw a silver napkin ring holder my grandmother would have been pleasedto place upon her lace tablecloth. I noticed an unusual pair of razor scissors forclipping hair, elaborately carved chairs, and intriguing photographs. Found! The Kingdom of Heaven in Cuba!Our quote of the day came from Lucille Ball via Donny, "I'd rather regret whatI've done, than what I didn't do." And at the end of today, surely all six of us willfall into a heap upon our beds feeling we did that sentiment justice. Thoughour fearless leader, Louise, had often referred to the fun, which lay aheadMorón way, nothing prepared me for this stellar packed, people-to-peopleevents that made up this Saturday. Things began with an auspicious air - that being the unexpected arrival ofEduardo as our host, along with Yanel, who spent the morning in Ciego with usas well.40HUNTERS A T U R D A Y
Page 39
Our lunch stop was the restaurant Rancho Palma, a sort of Caribbean SwissFamily Robinson affair, though on ground level. Eduardo commanded ourattention with his passionate talk of Cuba, Communism, the Kingdom of Heaven,and U.S.A. political observations. It left Alan and me breathless, and we kickedourselves for not thinking to record him, his eyes brimming with urgency, darkand shining fiery embers under the shade of the palapa leaves. Next we went to the Morón theatre. The Morón theatre was a highlight for me, acompany endowed by the Cuban government to ease its people into better livesand habits through performance art. The children's circus, also award winning,was a delight in every way to watch. Excellence, beauty, dedication, and hopefilled the stage. Like dewy blooms opening and closing, the glittering gymnastsdanced. They are indeed, the "Jewelry of Morón" as Eduardo refers to them.There loomingly large dance instructor and director radiated tenderness and awell-deserved pride, as did every member of the remarkable, memorable actorswe saw today.SATURDAY41From the Morón Teatro, we picked up Dr. Larry Morales, a friend of Eduardo's,and the author of a book on the Morón Rooster, symbol of the town. Larryexplained but for Fidel Castro's interest in another of Larry's books, the presentday sculpture would never have returned to the roost where it resides to thisvery day. We piled back into the taxi van, poking through pitted short streets,until we stopped at Larry's house, which holds the esteemed Nicolas Guillénfoundation, established by him and his wife, Nina, author of children's books"with heritage and personality". Just off the al fresco dining room, we noticed aportrait painted directly on the wall in a fit of off-the-cuff artistic abandon, by awell-known painter enjoying a meal in the Morales casa one day. Eduardo said itheld more value than the house itself. A delightful quartet greeted us in the backpatio, exactly where most people keep their quartets, by the name of Son Cuba.For the third time that very day, we were treated to an instructional dance lessonas we had also experienced at the Morón Teatro.Hot, happy, and only slightly hungry, we said our goodbye and thanks.
Page 40
375 East Little Canada RoadSt. Paul, MN 55117-1628 USA(800) 487-1074 | toll-free(651) 482-0915 | faxglobalvolunteers.orgemail@globalvolunteers.org GlobalVolunteersglobalvolunteersgloblvolunteers